So you've hit that "Order Now" button and you're eagerly waiting for your package to arrive. You're constantly checking your mailbox, refreshing your email inbox, and pacing around your front porch like an expectant father. But fret not, we've got you covered on how to track your order and keep tabs on your shiny new stuff!
Note: The status of an order will not be set as shipped until its shipping label has been generated, affixed to the package, or accepted by the carrier. Standard delivery takes 4-8 business days, Priority delivery zooms in at 4 business days, while International Guaranteed Shipping can take up to 7-15 business days. So, sit back, relax, and enjoy the wait for your eagerly awaited package."
Step 1: Find your order number
Your order number is like your package's social security number. It's a unique identifier that allows you to track your package from the time it leaves the warehouse to when it arrives at your doorstep. Look for an email or a confirmation page with your order number. If you cannot locate your order number, click here.
Step 2: Go to track your order page and just simply input the following:
Your email address - This is the email address you used upon purchase.
Order number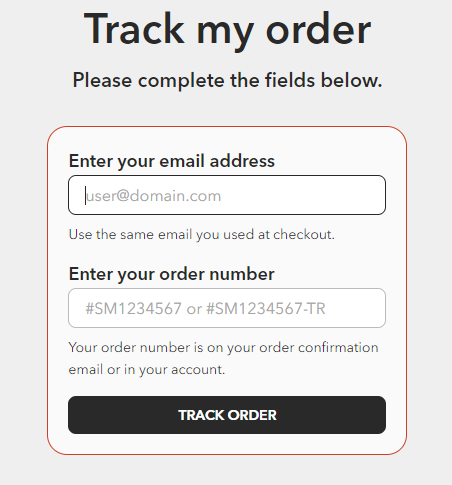 Another way to track your order:

Tracking numbers are assigned to packages when they ship.
Go to your

Shapermint Account

. (Note: If you haven't registered yet, simply click the same link to create an account now.)
Go to the order you want to track.
Click the Tracking Number below the item (some items may have been shipped separately).
You will receive an email with your tracking number and a link to check the status.
Tracking status meaning
Return to sender, Insufficient Address, Failed delivery attempts – Couriers make 2 or 3 attempts to deliver your package. Contact the courier or shipping provider ASAP -- they'll usually resend your package the next working day, or ask you to pick it up at their offices. If it is returned to us, simply CONTACT US, so we can resend it.
Custom Clearance – Your tracking status will be updated after your package has been cleared and released. For more information about your delivery, you can also contact your local post office or delivery service provider.
In Transit – Your order is on its way to you.
Delivered – Your order has been delivered to the shipping address provided upon purchase.
Available for pickup – You may collect the package from the specific USPS Facility or the Post Office.
If your tracking number won't show results in the tracking link? Just CONTACT US!